If a hospital bed is required at short notice or only required for a short period of time then we would recommend our hospital bed rental service.
Rental benefits
Fast delivery – Oftentimes these beds are required at short notice. For example a loved one may be waiting on being discharged from hospital. We offer a next day delivery and set up service within the Leinster area.
Rates – We offer competitive weekly and monthly rental rates and discounts are available for long term rentals.
Personal Service – We have our own trained delivery drivers so along with flexible delivery times that suit you, we also show you how to operate the bed properly and safely. If you require some assistance in moving furniture to make room for the bed then please let us know and we are more than happy to assist.
Hospital bed benefits
Fully electric – The main benefit is that these beds are fully electric and are operated by an easy to use remote control. The remote control can adjust the height of the bed along with the back and leg sections.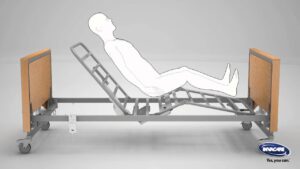 Easy to get in and out of – As the height of the bed can be adjusted it can be brought down so it's lower to the ground thus making it easier to transfer in and out of.
Side-rails – If there is a risk that the person using the bed might fall out at night, side-rails can be fitted to the side of the bed to prevent this.
Set up anywhere in the home – These beds can be set up anywhere in the home. This can be useful for example if the person is unable to use the stairs.
Mattress
Our beds come with a standard hospital grade memory foam mattress and this is the type we primarily provide. We can also provide air mattresses if required (see below). In most cases your healthcare professional will advise on which type of mattress to get.
Air Mattress (dynamic/pressure relieving mattress)
If required we can also provide an air mattress. This is usually needed if the person will be in bed for long parts of the day and therefore is at risk of pressure sores or ulcers.
An air mattress works by alternating inflation and deflation of cells to constantly change pressure points and promote circulation.

Reach pole
A reach pole is placed at the top of the bed and is used by the person to help assist the person to sit upright in bed. By holding onto the handle, which is supplied with the lifting pole, the patient is able to adjust themselves as required, with little or no aid from a carer.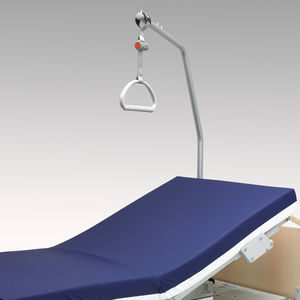 Set up & installation
Our beds come in parts so they can be set up anywhere in the home once there is room for a single size bed and access to one electrical socket (two sockets if an air mattress is required). Installation takes about 30 minutes and about 45 minutes if an air mattress is required as we need to wait for the mattress to fully inflate.
Related products – We also provide a range of related products such as hoists, wheelchairs and orthopaedic chairs.
For more information on our hospital bed rental service please contact us on (01) 254 4406 or by email at info@mobilitydirect.ie